Central Georgia Greek Festival
Central Georgia Greek Festival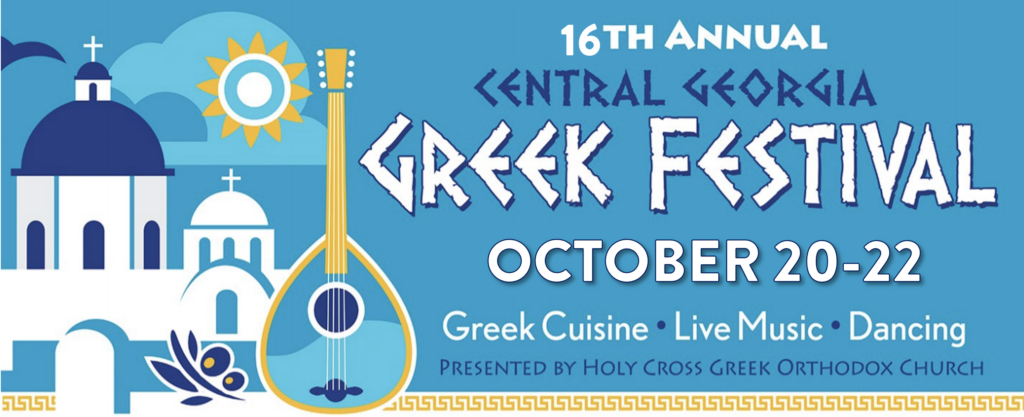 Our annual Greek Festival features authentic foods, church tours, dancing and live music, religious items, jewelry, art, shopping, and more! Proceeds from the festival go to support Holy Cross Project Agape and several local charities throughout Central Georgia.
Friday, October 20th | 11am – 9pm
Saturday, October 21st | 11am – 9pm
Sunday, October 22nd | 11am – 4pm
This year, we are excited to extend our hours on Sunday!  A complete schedule of all the events will be coming soon!

What better way to thank you staff than to treat them to a delicious Greek lunch!  We are offering pre-orders for easy pick up.  Your staff will love you for it!  If interested, please email us at festival@holycrossga.org by Thursday, October 19th at noon with your order.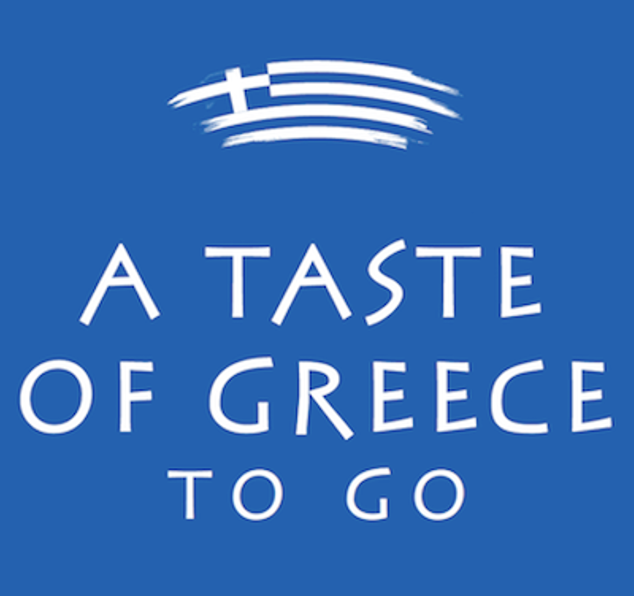 Want to impress your friends at your next dinner party?  Need to take a dish to your family Thanksgiving and/or Christmas meal?  Let us do all the work and you take all the credit!
Frozen pans of Pastitsio (12-15 servings), Spanakopita (12 servings) and Dolmades (32) are available for purchase (while supplies last).  Email us at festival@holycrossga.org to pick up your pan prior to the festival or visit the Greek Market during the festival.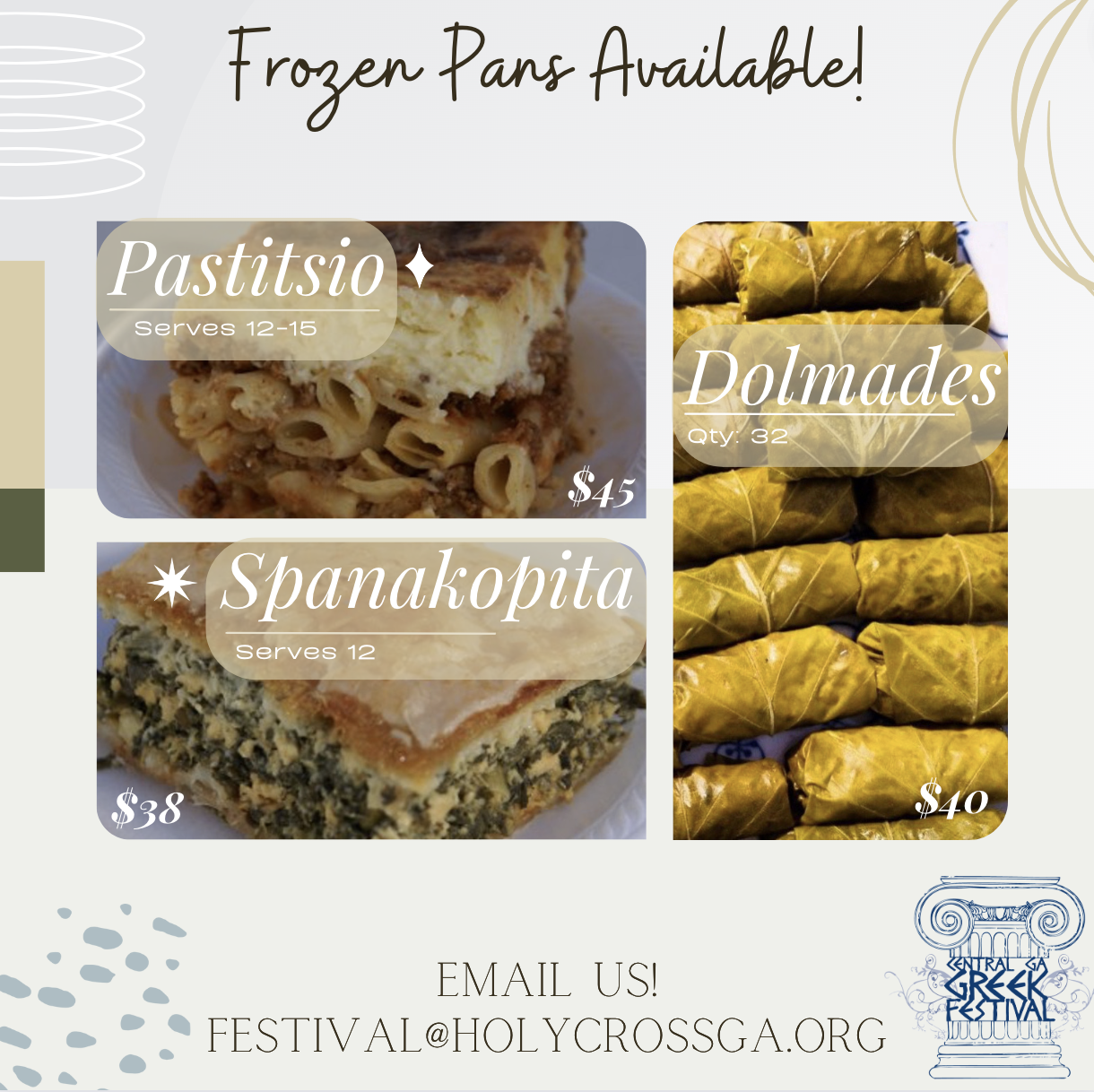 We are excited for this year's festival t-shirt and apron design.  The design states "Kali Orexi" which means "good appetite" or "eat well" in English!  Extra shirts are limited at the festival.  Shirts are being offered in four different colors: white with navy ink, light blue with navy ink (color not available with the apron), royal blue with white ink, and navy blue with white ink.  Short sleeve and long sleeve shirts are available.  
Visit the Greek Market during the festival to purchase your festival apparel (while supplies last).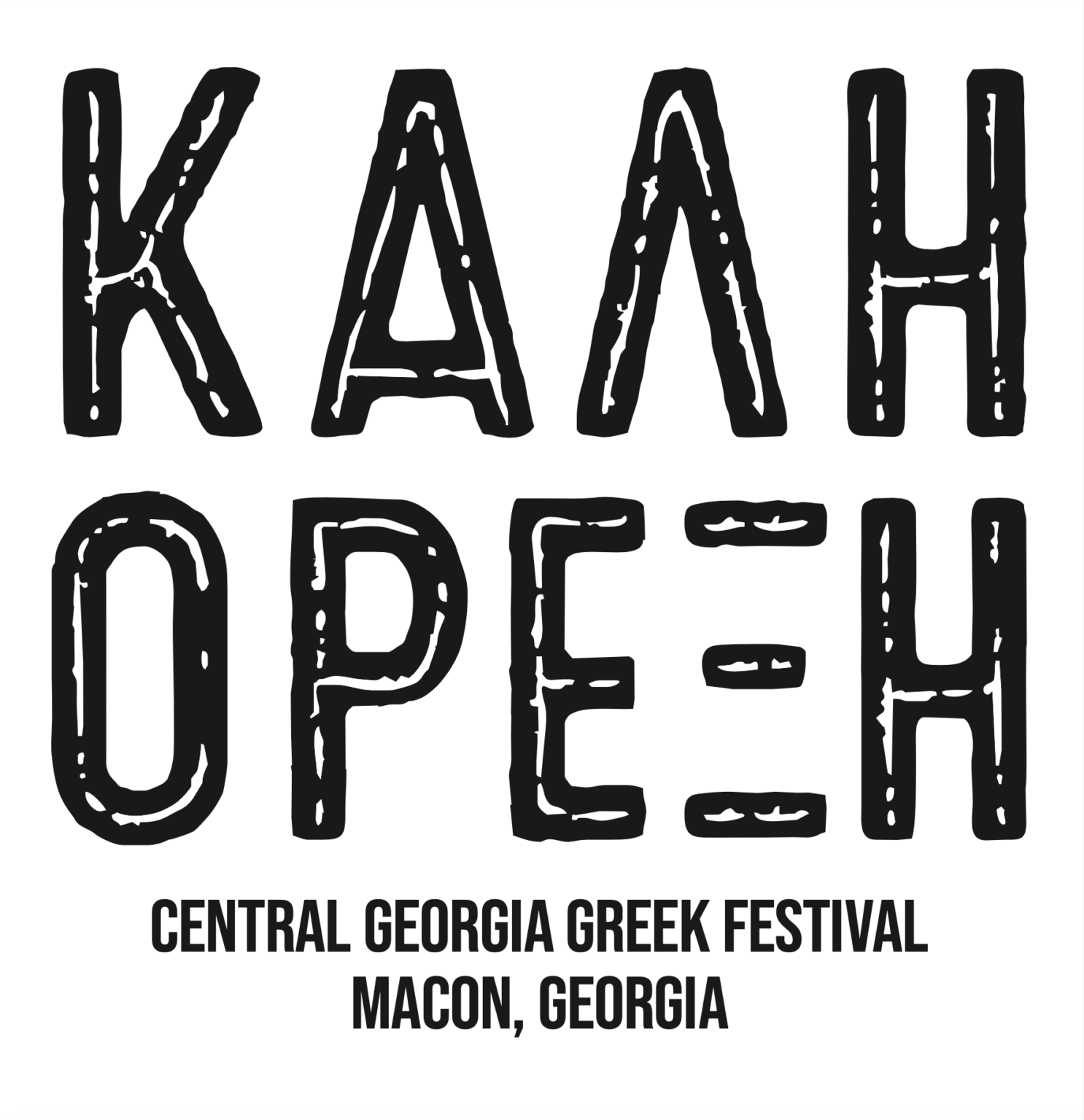 Sponsorship Opportunities
Our sponsorship program extends to advertising options through on-site banners, on-site yard signs, program booklet, and website exposure. Our sponsorship plans continue to provide great marketing opportunities for sponsors and we look forward to your participation. 
Thank you for your past participation and future consideration in our festival sponsorship program.  We hope you will join us in helping to make this festival a success.  If you would like to be a sponsor next year, please email us at festival@holycrossga.org.
Looking for a chance to win up to $1,000?  Purchase a raffle ticket today where every ticket is already a winner if you use the coupons on the back!   
Grand Prize is $500 with another 5 chances to win $100! Tickets can be purchased up until the winners are drawn. Winner(s) do not have to be present to win.  Drawing will be held Sunday, October 22nd at 3:30pm.
Holy Cross would like to thank 13WMAZ for sponsoring the Raffle Ticket Fundraiser as well as all our other sponsors!  A portion of the proceeds will go to Beverly Knight Olson Children's Hospital Navicent Health.
Visit the Greek Market during the festival to purchase your Raffle Tickets and be the next $500 winner!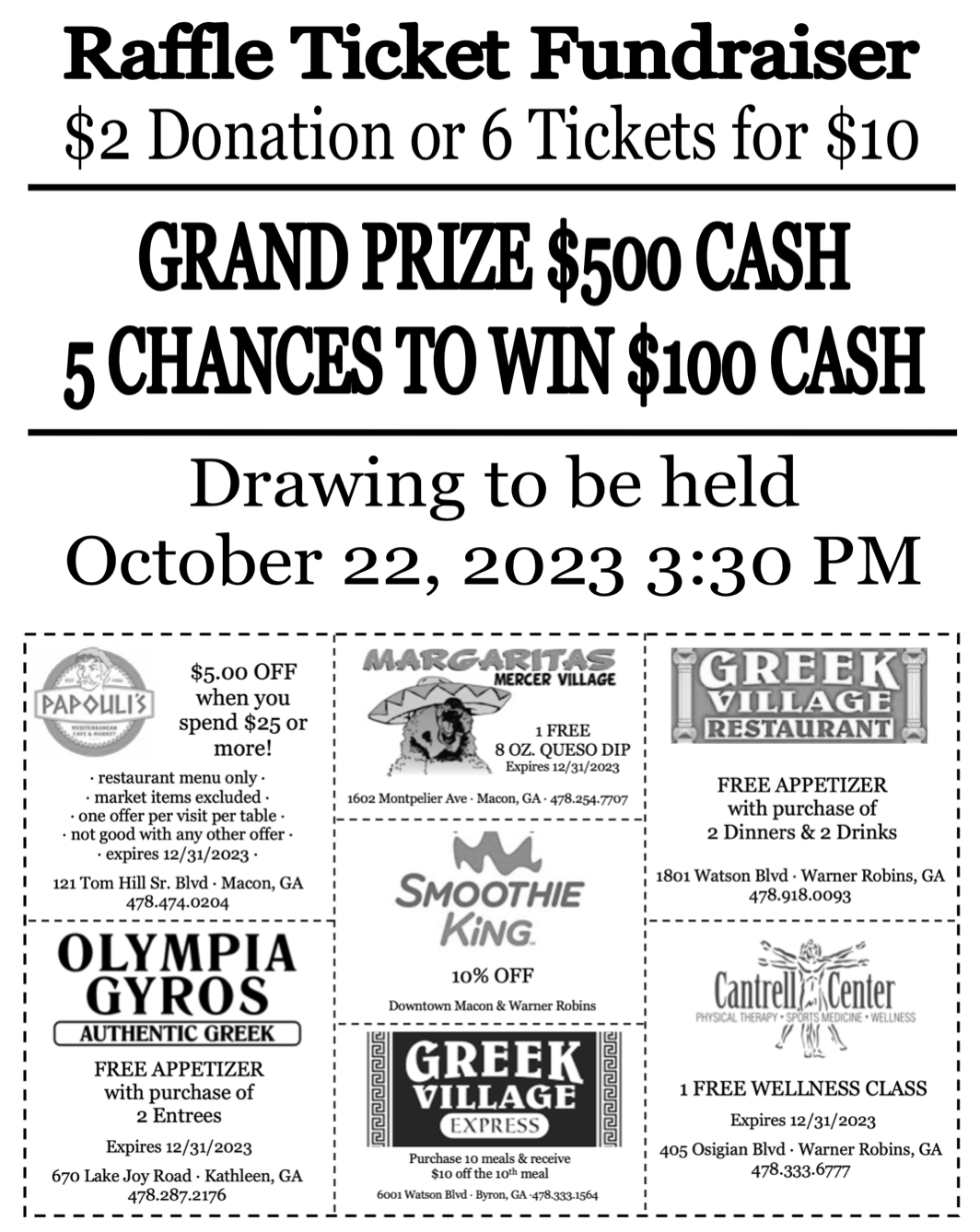 When and where is the festival? October 20-22 at Holy Cross Greek Orthodox Church in Downtown Macon (859 First Street)
What are the hours? Friday and Saturday 11am-9pm and Sunday 11am-4pm
Does it cost to get in the festival? There is no admission fee!
Where do we park? Parking is available along the streets and also across the street.
Do y'all serve vegetarian options? Yes, we have spanakopita, falafels, veggie gyro, Greek salad and of course all of our pastries are vegetarian!
Is the festival kid friendly? Yes! Kids love to eat Greek and there is also a kid area available in Saturday and Sunday.
Do y'all have live music? We are excited to have George Karras and Themis back in Macon! Their authentic Greek music will have you and dancing!
What about Greek Dancing? Come on Saturday and Sunday to witness for the first time in Macon, Areti from the Atlanta Cathedral. Don't be shy to try some Greek dancing of your own!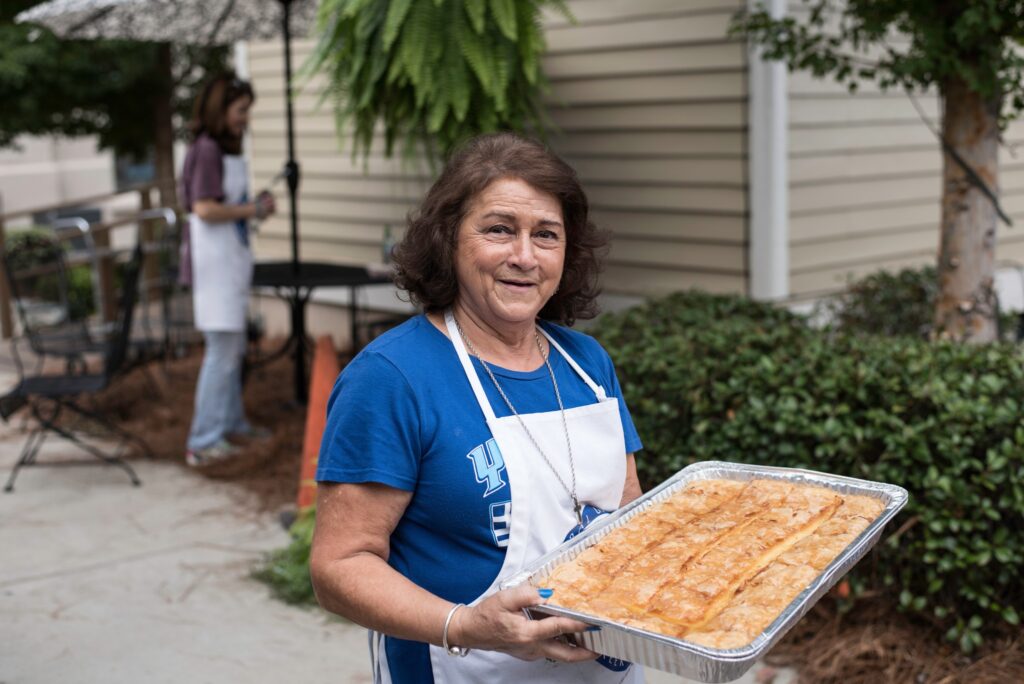 Need service hours with your organization or just wanted to help out? We would love to have you on our team! All volunteers will receive a certificate at the end of their 4-hour shift and a FREE Gyro, Fries & Beverage (non alcoholic). When volunteering, please wear your organization's t-shirt, jersey, etc. We will contact you closer to the festival to let you know where to report. Thank you for volunteering – we could not do this without you!  For more information about volunteering, please contact volunteer@holycrossga.org.